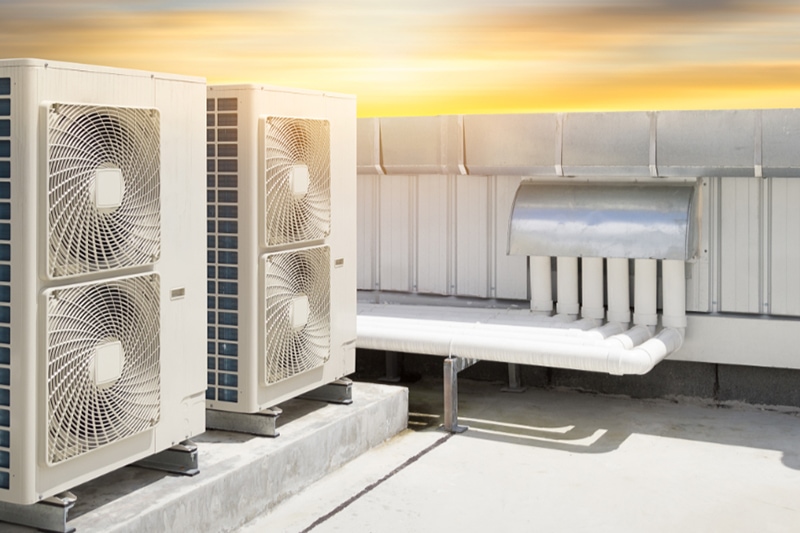 On January 1, 2023, the Department of Energy (DOE) enacted new minimum cooling energy efficiency requirements for residential and commercial HVAC equipment. The purpose of these new regulations is to continue the ongoing efforts to reduce energy consumption in the United States. What does this mean for property owners and managers? Let's talk about pros of replacing your unit with an energy efficient model. 
Age
Commercial units aged 8-10 years are suggested by the DOE to replace after a certain amount of repairs. Typically, by year 10 you'll see an uptick in repair costs, utility bills, along with smells and noises, and overall poor cooling and air quality. The consideration of repair vs replacement depends on your goal set – which usually is to keep costs low, but when it comes to the HVAC, the best proactive decision for your commercial property's overall cost, tenant satisfaction, and property value increase is to replace with a current higher efficiency model. If delayed, the current problems will continually worsen and cost more, possibly even losing your tenant. 
Cost
High-energy efficient HVAC systems can now outlast up to 20-25 years PLUS more with proper installation and maintenance! This is a great reason why it is important to partner with a skilled and reliable commercial HVAC company, such as Reliable Plant Maintenance. Let's consider replacing vs repairing: When replacing a full unit, energy costs are decreased by 30% in commercial buildings. Here is a quick calculation to see what your savings can be, Savings Calculator | Products | ENERGY STAR. Many local utilities even offer rebates and some government incentives for high-efficiency units. Here is a national database link to check your area: Database of State Incentives for Renewables & Efficiency® – DSIRE (dsireusa.org). On average, a typical annual repair of a 10 plus model with little to no maintenance can rack up almost $18K-$35K! 
Future
ROI on replacing with an energy efficient model can return up to 50%, especially depending on the tax cuts, energy use, and local rebates and incentives included. Property managers need to maintain their property, but also consider how to increase property profit. There are also many other upsides: Per KEEN Energy, businesses that upgrade their HVAC equipment enjoy benefits such as Employee Satisfaction – Research covering more than 500 financial institutions found that banks with upgraded HVAC systems saved $675 per employee per year. A similar study found that employees in "green" buildings are 16% more productive than employees in non-certified buildings. One of the likely reasons for improved productivity is employee health. Improving HVAC equipment and ventilation keeps team members healthy and reduces sick days. The right HVAC upgrades can reduce transmissions of communicable diseases and reduce asthma and allergy symptoms by 18 to 25%. There's even a study that notes a 27% reduction in headaches. Think of the Future and the Now when considering replacement.